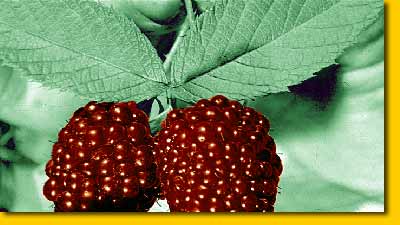 Moraberry
Angiospermae

Subclass:
Dicotyledoneae

Family:
Rosaceae

Genus:
Rubus Glaucus
---
Moraberry is a perennial plant, which grows as a thorny, semi-erect bush. The leaves are tri-folds. The stems are thorny with an average diameter of 1-2 cm and are 3-4 meters in length. The leaves and stems are covered with a white powder. At the base of the plant one finds the crown from which the stems arise.
The berries are found inside the tri-fold of the leaves. The fruit has an approximate size of 1.5- 2.5 cm in diameter. The color of the fruit changes from green to dark red when mature. The fruit is a berry.
For our Spanish speaking viewers, learn more about Mora...
>>> CLICK HERE <<<
To contact us now, please
Click Here
.
For web page comments
and suggestions, please
Click Here
.