Harvesting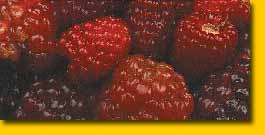 Mora bushes can produce berries as early as 8 months from planting, and continue for approximately 20 years. Depending on the propagating cycle, the new plant can live in a green house 10-30 days, and another 45 days when transplanted before they produce any type of fruit. From the time the plant is transplanted it requires 8 months to produce fruits. The most fruit producing years are 10-15. In Colombia it can produce large amounts of fruit from years 15-20 due to soil conditions.
Harvesting Periods
Mora is a plant that produces fruits continually; the harvesting periods are determined on the rain seasons in the various zones. March through May is the period of greatest harvest. June through September produces normal harvest, while October through February the least number of fruits are produced.
Expected Yields
The expected yields per hectare under normal production conditions can average between 6-16 tons, as per the Agricultural Minister of Columbia. This information is based on 2500 plants per hectare.
To contact us now, please
Click Here
.
For web page comments
and suggestions, please
Click Here
.